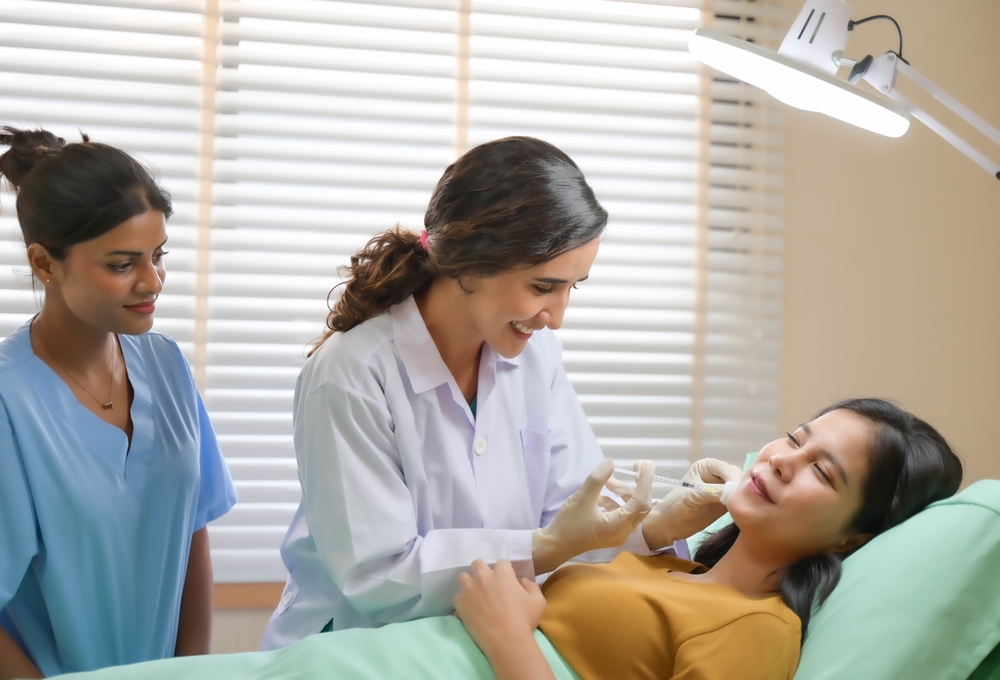 It's no secret that Botox does a phenomenal job at eliminating fine lines and wrinkles. But, what you might not realize sensational results depend a lot on the skill of your injector.
Here, you'll discover what it means to be a #1 master Botox injector in Tysons Corner, VA, plus how to find one. 
Let's Get Right to It – What Exactly Is a Master Botox Injector?
First, it's important to understand that in most states it is illegal for anyone who is not a licensed healthcare professional to administer Botox. In addition to a valid license, being a master injector signifies an elevated level of expertise and skill, and the following is required to become one:
A deep understanding of facial anatomy
Precise injection techniques
Ability to tailor treatments to each patient's unique needs
Master injectors always prioritize safety, achieving natural looking results and minimizing potential side effects. They set a high standard in the field of cosmetic procedures.
Here Is Why a Masterful Approach Matters
It's not just about great outcomes or minimizing risks. A well-trained injector isn't solely focused on your aesthetic outcome – they're equally committed to ensuring your overall experience and satisfaction. 
A dependable, top-tier injector offers thoughtful responses to your questions, provides tailored treatment plans, and goes the extra mile to support you during your appointment.
I'm Excited About Rejuvenating My Appearance! How Do I Find the Most Qualified Master Injector?
While the benefits of working with the #1 master Botox injector in Tysons Corner, VA are evident, it's important to emphasize that choosing one isn't a decision to be taken lightly. Although injectables may seem easily accessible, remember that they are considered medical procedures. 
You can start by asking people you trust who have had anti-wrinkle treatment. The recommendations of your primary care provider, family, and friends may set you on the right path. 
Look online for reviews and patient testimonials. Stick to reputable websites, and check social media pages. Don't forget to take a look at before / after photos to gauge the quality of an injector's work. 
Before making your decision, schedule a consultation. This is the perfect opportunity to interview the injector and ask them about their background, certifications, and experience. Many people feel this in-person meeting is the best way to find the right injector. 
Take a look around the facility. It needs to be clean and meet safety standards. It should also feel inviting and relaxing.
Above all, choose an injector who makes you feel comfortable and confident. Trust your instincts. If something doesn't feel right, consider other options.
Is a Botox Consultation Really That Important?
It is, especially if this is your first time getting anti-wrinkle injections. If you've experienced a change in your health or medications, you also need to touch base with your injector. 
There are several purposes for this meeting. A medical evaluation is necessary to ensure your safety. In addition, you receive information regarding treatment, potential risks, side effects, outcomes, preparation, and aftercare. A consultation is also the perfect time for you to ask questions if you have them.
Botox Overview: Here's How It Reduces Wrinkles and Results
This injectable works by temporarily blocking nerve signals to muscles. This relaxation of targeted muscles reduces the appearance of dynamic wrinkles and fine lines in the skin, resulting in a smoother, more youthful appearance.
One of the biggest advantages of this treatment is how quickly you can see improvement. You can expect to see improvement in a few days and your final results within 10 to 14 days. 
On average, Botox lasts three to four months. However, if this is your first time getting it, the effects may not last quite that long. If you've had treatment before, your amazing Botox results could last a bit longer. 
Are Botox Injections Painful?
It's normal to be concerned about needles in sensitive areas such as your face, but there is no need for concern. Botox injections are typically not very painful and are typically well tolerated. 
Most people report feeling only a slight pinch or discomfort during the procedure, though pain tolerance varies among individuals. Speak to your injector about numbing creams or ice packs to minimize any discomfort, making the experience more pleasant.
Should I Be Worried About Side Effects?
Not at all. Common Botox side effects include temporary bruising, swelling, and redness at the injection site. These usually resolve on their own. Your injector should let you know about adverse effects that are less common but possible so you know what to expect.
Here Are a Few Simple Pro Tips to Boost Botox Results
Followall  post-injection instructions given to you by your injector. Additionally, you can consider complementary treatments like dermal fillers for a more comprehensive rejuvenation approach.
Maintain a healthy lifestyle with a balanced diet and regular exercise. Stay hydrated, and protect your skin from sun damage. Use quality skincare products. If you're not sure which ones are right for you, be sure to ask for advice from your injector. 
You'll Find the #1 Master Botox Injector in Tysons Corner, VA at Milani Medspa!
With our skilled injectors, personalized plans, and a commitment to your wellbeing, you can confidently embrace the benefits of this treatment for a more vibrant and confident you. We use only cutting-edge technologies and the most effective and advanced techniques. 
Regardless of your age or skin concerns, trust our healthcare experts to devise a customized plan to reach your aesthetic goals.
Contact us at 703-517-6600 to book your appointment today and be sure to ask about our promotions!