MICRONEEDLING & SKIN RESURFACING
Neck Tightening Treatments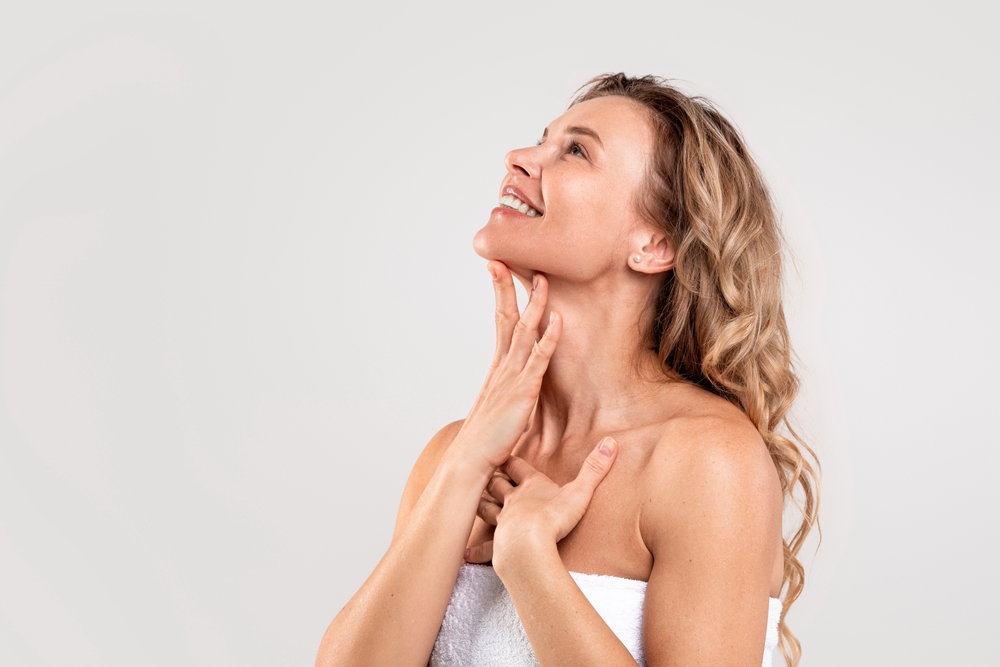 Neck Tightening Treatments in Tysons Corner
The neck is an often overlooked part of skincare, which is why it's one of the first areas to show signs of aging like creases and sagging. If the term "turkey neck" hits too close to home for you, then it's time to consider neck tightening treatments.
There are many non-surgical techniques that your provider can use to tighten and smooth the skin on your neck, all without needing to go under the knife or expose yourself to potentially dangerous procedures. Two of the most popular treatments are the following:
Radiofrequency (RF) Microneedling: RF microneedling is a tried-and-true treatment for addressing skin laxity. The procedure involves carefully pricking your skin with tiny needles, followed by administering radiofrequency energy. This stimulates both collagen and elastin production for tighter, firmer, and smoother skin.
Skin Resurfacing: Laser skin resurfacing is a non-invasive skin rejuvenation treatment that removes superficial layers of your skin while tightening the underlying layers. Similarly to RF microneedling, it stimulates collagen production for optimal tightening.
Why Choose Non-Surgical Neck Tightening Treatments to Improve Skin Laxity and Reverse the Signs of Aging?
Non-surgical neck tightening is a great way to address inevitable signs of getting older without sacrificing your safety or comfort. None of the aforementioned treatments require you to go under the knife, receive general anesthesia or sedation, or sacrifice your busy schedule with lengthy downtime.
Neck tightening treatments are less expensive than a traditional neck lift, carry fewer risks, and produce stunning results. You save a significant amount of time with no recovery necessary after most types of non-surgical skin tightening and quick sessions, as well as a lot of your hard-earned money. You can treat yourself without the guilt of overspending!
Can Neck Tightening Treatments Be Used on All Skin Types / Skin Tones?
Non-surgical neck tightening treatments can be used on virtually all skin tones and types. For patients with darker skin tones, approach laser treatments with caution, as certain lasers can result in unpleasant side effects and complications. A laser specialist will let you know whether you qualify.
What Does Neck Tightening Treatments Feel Like?
All of the non-surgical tightening procedures are relatively painless and easily tolerated. A topical anesthetic can be applied to your skin prior to treatment for optimal comfort. The sensations you experience depend on the treatment you choose.
When Will I See Neck Tightening Treatments Results?
How soon you'll see results is dependent on the type of neck tightening procedure you receive. Any treatments that stimulate collagen production take time to work, though you may see minor improvement right away. You'll see the most improvement when you complete a series of treatment sessions with certain procedures such as radiofrequency microneedling.
How Long Do Non-Surgical Neck Tightening Treatments Results Last?
Non-surgical skin tightening methods are not permanent, no matter which route you go. Some treatments last several months, while laser skin resurfacing can last for three to five years. RF microneedling effects are typically seen for a year or longer.
How Many Times Can You Get Neck Tightening Treatments, and How Many Treatments Are Needed for Sensational Results?
Many non-surgical methods like radiofrequency microneedling and laser skin resurfacing require multiple treatments spaced four to six weeks apart in order to achieve optimal results.
How Long Does Treatment Take?
Most treatments, no matter which procedure you choose, can be completed in an hour or less. The neck is a relatively small area, which generally makes for a shorter treatment time, so you won't have to spend long at your provider's office.
How Long Is the Recovery After Non-Surgical Neck Tightening Treatments?
Downtime isn't a requirement for any of these treatments, as is required from surgical skin tightening. Recovery times vary from treatment to treatment, however most people are fully recovered and able to see improvement in their neck in less than a month.
What Are the Side Effects of Neck Tightening Treatments?
Redness, swelling, bruising, sensitivity, and mild discomfort are standard side effects for any neck tightening treatments. Specific side effects and complications for each treatment should be discussed with your provider. Be sure to ask during a consultation about any specific concerns you may have.
Am I a Good Candidate for Non-Surgical Neck Tightening?
Almost anyone can benefit from neck tightening treatments because there are so many techniques you can choose from. It's highly likely that your practitioner can work with you to find a treatment that's safe and effective for you.
As a general rule for all cosmetic procedures, surgical or otherwise, patients should be healthy adults with realistic expectations about the outcome of their treatment. Anywhere from mild to severe sagging, wrinkles, and similar signs of aging can be treated successfully.
Certain medical conditions and medications can cause adverse effects with some treatments. It's important to consult with a professional to determine which of these non-surgical neck tightening procedures is appropriate for you.
To find out for sure whether you qualify for any type of non-surgical neck rejuvenation, book a consultation with a skilled provider.
Where Is the Best Place to Get Neck Tightening Treatments Including in Tysons Corner?
Visit Milani MedSpa for all of your skin tightening needs near Tysons Corner! We offer a variety of treatments to help you achieve a tighter, smoother, and more youthful neck, face, and body.
Contact us at 703-517-6600 to request your consultation today.
We can't wait to walk you through your options tightening loose skin and help you determine which one is right for your rejuvenation needs!