Laser Hair Removal for Black Skin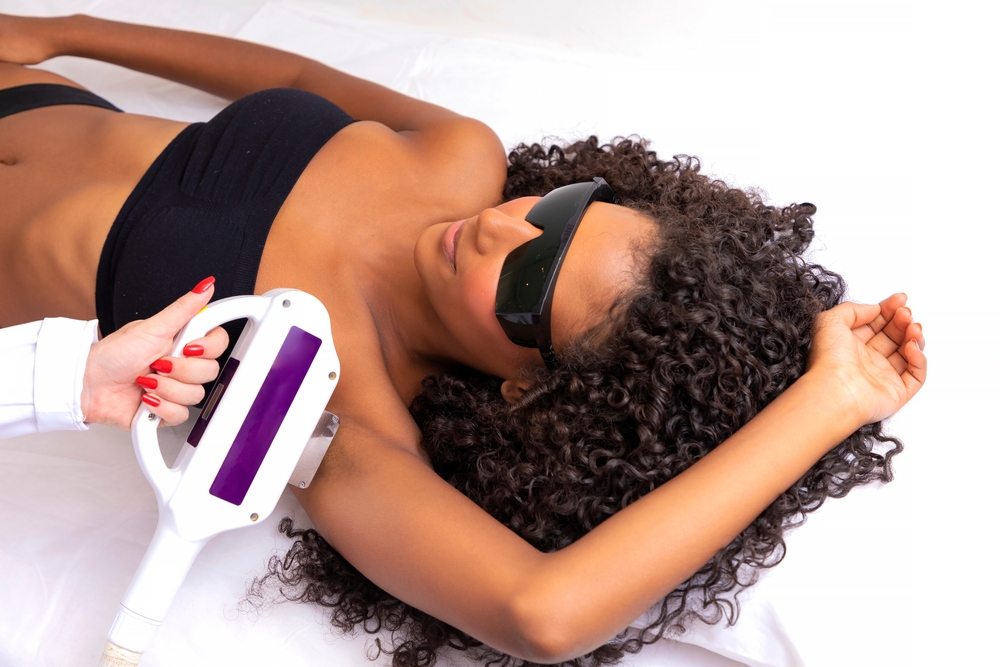 Laser Hair Removal for Black Skin in Northern Virginia
A common misconception surrounding laser hair removal (LHR) for Black skin is that it's not safe or even doable.
Thankfully, that couldn't be further from the truth. Advances in technology have made this popular method of hair removal safe for all skin types and tones!
Why Choose Laser Hair Removal for Black Skin?
With darker skin, what matters is the type of laser that is used, and there are two you need to know about: Alexandrite and Nd:YAG. 
The Alexandrite functions at a lower level of infrared wavelengths, while Nd:YAG targets the melanin inside the hair follicles and bypasses the skin.
A laser that combines the two is a fantastic option for patients with dark skin. 
Laser hair removal is a safe and efficient way to remove unwanted hair on specific areas or all over your body. This customizable treatment is rather quick (a few minutes to an hour depending on the size of the area(s) you are treating and the type of hair you have). 
Laser hair removal for dark skin requires no downtime for recovery. It's low maintenance, and you'll no longer have to deal with painful ingrown hairs.
So, the better question is, why wouldn't you choose LHR over other hair-reduction methods?
Is Laser Hair Removal Painful?
Pain is subjective, and sensations vary for everyone. Some patients compare the feeling of laser hair removal to a rubber band being snapped on the skin. It might sting a bit, but it's tolerable.
If you are concerned about pain, your provider can apply a topical numbing cream before treatment to minimize discomfort. 
What Can I Expect During a Laser Hair Removal Session?
If you opt for numbing cream, this will be applied and allowed time to take full effect. This can take up to 45 minutes. You'll be given safety goggles to wear as a safety measure. 
During laser hair removal, your skin will be pulled taut as a handheld device delivers heat energy to your hair follicles.
Small areas are targeted at a time. Once your session is over, you'll be free to resume your day. 
Will I Need More Than One Session of Laser Hair Removal?
Most patients do. Again, the type of hair you want to be removed and the size of the area(s) you are treating will play a part in the number of sessions you need.
Many providers recommend a series of four to six laser hair removal sessions for optimal results. 
How Long Will I Have to Wait to See Laser Hair Removal Results?
Not long. It is possible to see a 10% to 25% reduction in hair a week after your first session. After three weeks, hair growth will be thinner and less coarse.
Of course, your results continue to improve as you move forward in your treatment plan. 
Am I a Good Candidate for Laser Hair Removal?
Take the time to schedule a consultation with your provider. This is the easiest way to make sure laser hair removal is right for you. Once it has been determined it's safe for you to proceed with treatment, you'll share your goals and have the opportunity to ask questions about laser hair removal. 
Where Is the Best Place to Go for Laser Hair Removal for Black Skin in Northern Virginia?
The team at Milinai Medspa is proud to offer patients laser hair removal using the GentleMax Pro.
This laser system, made specifically for all skin types and tones, is safe, versatile, and dependable. Contact us at 703-517-6600 to book your consultation today!